Taken from
Frank's blog
(used with permission).
***
I'm happy to announce that my new book REVISE US AGAIN: Living from a Renewed Christian Script is now available.
This book was born on the anvil of three decades of spiritual experiences, struggles, observations, suffering, failures, questions, reflections, and the insights that are born from each. As such, it contains both light and shade.
The book is unlike anything else I've written to date. And it's the shortest as well (only 176 pages). It is written for all Christians in every denomination, movement, and church structure.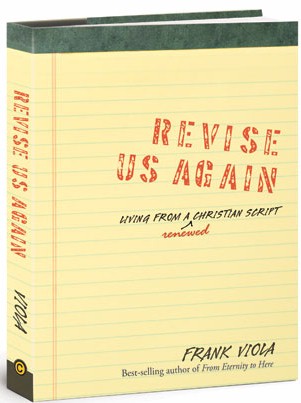 Unlike From Eternity to Here and Jesus Manifesto, it doesn't contain the element of the sublime. Nor it is written to the right brain.
Unlike Pagan Christianity, Reimagining Church, Finding Organic Church, and The Untold Story of the New Testament Church, it's not a book about the church or church practice.
Instead, REVISE US AGAIN explores ten vital issues of our faith that work at the unconscious (subterraneal) level. Issues that are rarely addressed today. Some of the chapters include: "Being Captured by the Same Spirit You Oppose" … "Your Christ is Too Small" … "What's Wrong With Our Gospel?" … "The Felt-Presence of God" … "The God of Unseen Endings" … "Revising the Holy Spirit's Ministry" … "Let Me Pray About It: Revising Christian Code Language" … "The Lord Told Me: Revising Christianeze."
The book isn't written as a story. The chapters don't build upon one another. The book is a collection of essays written at different times and places. But they are all tied together by the theme of rescripting and revising.
Click here to watch the video trailer
Click here to listen to an interview I did on the book with CBD (Christian Books)
Click here to read a print interview where I discuss the problems and solutions in the book
Click here to read endorsements and reviews
I hope this little book draws you closer to our magnificent Lord and acts as a tool for Him to gain more for Himself in all of us.
Excerpts from the book:
Legalism, License, Lordship and Liberty